Benzaiten
Benzaiten, also known as Benten, is the Japanese goddess of all that flows, including water and rivers but also words, music, poetry, speech and learning. She originated in India as the Hindu goddess Sarawati and shares a lot of the same characteristics. Over time she evolved into a Buddhist goddess and is now included as the only female amongst the
Seven Lucky Gods of Japan
.
'Benzaiten Seated on a Dragon' - Keisei
Benzaiten in Art
In art she is often depicted holding a musical instrument and her image is usually connected in some way with water. In Japan she is closely associated with dragons and snakes. Her connection to snakes is possible derived from Saraswati who is said to have killed a three headed snake. This is possibly the root of the Japanese tales below, which connect her to the dragon.
Goddess Benzaiten by Celeste Angus From a miniature shrine
(University Art Museum, Tokyo)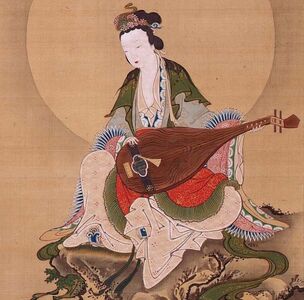 Benzaiten in Folklore
In Japanese Folklore there are a series of tales known as the Enoshima Engi that tell of a horrifying five headed dragon called Gozuru that terrorised the people who lived in the area of Japan now known as Kamakura, an hour south of Tokyo on the coast. One day a beautiful maiden descended on the area and a mysterious island rose out of the sea. The maiden was the benevolent goddess Benzaiten and she made this island (known today as Enoshima) her home. Now the dragon Gozuru saw her arrive and fell deeply in love promptly asking for her hand in marriage. The goddess rejected him outright blaming his awful treatment of the local residents. Immediately Gozuru changed his ways and instead became a powerful protector of the area. Some stories say that as he died he lay down and his body now forms the shapes of the hills around the area. Other tales suggest he still remains under the island of Enoshima to this day.
Benzaiten Shrines
Today in Japan there are still shrines to Benzaiten and those known as the three great shrines of Benziten are the Itsukushima Shrine in Hiroshima prefecture, Enoshima Shrine in Kanagawa prefecture and Hogon-ji Temple in Shiga Prefecture.
Itsukushima Shrine on Miyajima Island
In Kamakura, where the story of Benzaiten and the dragon is said to be set, the Zeniari Benten Ugafuku Shrine can be visited on Enoshima Island. The cave shrine is one of the few remaining in Japan that merges Buddhism and Shinto practices. Folklore and traditions that date back to the 13th century tell us that if you wash your money in the waters at the shrine, it will double over time and you will be assured prosperity. Travel writer Donny Kimbal is a big fan of the Kamakura area and has written several posts on his excellent blog about the folklore around Benzaiten and Enoshima Island, as well as travel tips for those who plan to vist. You can read more
here
and
here
.
Zeniari Benten Ugafukiu Shrine in Kamakura (image via donnykimball.com)
Benzaiten Pilgrimage
For many years I have been fascinated by the legends of Benzaiten and I look forward to one day travelling to Japan and visiting the shrines. Pilgrimage to honour the goddess has a long tradition in Japan and is reflected in ukiyo-e artwork. Japanese artist Utagowa Hiroshige depicted the island of Enoshima in the two images below. The first depicts the pilgrimage of female entertainers crossing over to the Island to pay homage to the goddess Benzaiten, who would have been their patron deity. The second image is similar, showing the pilgrimage to the cave shrine. The third image is also by Hiroshige's and depicts another of Benzaiten's shrines.
'Pilgrimage of Female Entertainers to Enoshima to Pay Homage to Benzaiten' - Utagawa Hiroshige
'Pilgrimage to the Cave Shrine of Benzaiten' - Utagawa Hiroshige, 1850
'Benzaiten Shrine at Inokashira in Snow' - Utagawa Hiroshige
You can read more about Benzaiten and my pilgrimage to visit some of her shrines when I travelled to Japan
here
.